Morari Bapu, an eminent Indian preacher and spiritual leader, has left an indelible mark through his recitations of Ramcharitmanas worldwide. His life story is a testament to his unwavering devotion, philanthropic efforts, and profound societal impact. Embark on an inspiring journey as we explore the remarkable life story of this extraordinary man whose words have touched hearts far and wide.
Morari Bapu Biography
---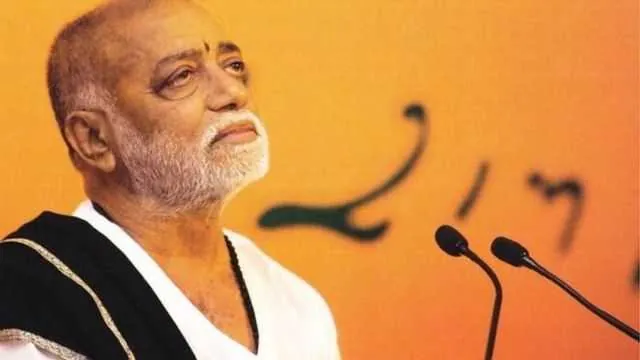 | | |
| --- | --- |
| Aspect | Details |
| Full Name | Moraridas Prabhudas Hariyani |
| Date of Birth | September 25, 1946 |
| Birthplace | Talgajarda, Bhavnagar District, Gujarat |
| Zodiac Sign | Virgo |
| Education | Shahpur Training School in Junagadh, Gujarat |
| Spiritual Journey | I started at age five under my grandfather's guidance |
| Ramayana Memorization | Memorized the entire Ramayana by age 12 |
| Recitations | Initiated recitations at Ramji Mandir in Talgajarda in 1960; over 800 events worldwide |
| Katha Topics | Ramayana, Gopi Geet Kathas during Navratri |
| Philanthropy | Initiatives for the third gender, women's welfare, red-light area inhabitants, soldiers' families |
| | Disaster relief, Rama temple construction |
| Controversies | Faced controversies for controversial statements, offered apologies |
| Legacy | Charitable work, societal upliftment, propagation of Ramayana essence |
| Impact | Inspires millions, echoes belief in accessible spirituality for all |
Morari Bapu Early Life and Education
---
 Born September 25, 1946, in Talgajarda, Bhavnagar District, Gujarat, Morari Bapu exhibited his spiritual inclination from a tender age. He received his education from Talgajarda and Shahpur Training School in Junagadh. His grandfather nurtured his love for spirituality by teaching him the Ramcharitmanas hymns.
Relationships, Wife & Children
---
Morari Bapu is married to Narmadaben Hariyani, and they are blessed with three daughters – Bhavana Modi, Prasanna Patel, and Sobhana Hariyani – and one son, Parthiv Hariyani.

Morari Bapu Spiritual Awakening
---
Starsunfolded reported that, At age 5, Morari Bapu embarked on his spiritual journey under his grandfather's guidance. His daily recitations of Ramcharitmanas blossomed into a lifelong commitment. By 12, he had memorized the entire Ramayana, setting the stage for his profound impact on religious discourse.
List of Top Bhagwat Katha Vachak in India
Morari Bapu's Contributions and Achievements
---
 Morari Bapu's recitations began at the Ramji Mandir in Talgajarda in 1960. His spiritual journey expanded globally, with recitations in over 800 events across countries such as Sri Lanka, Indonesia, the UK, and the US. Notably, his Kathas encompass Ramayana and 19 Gopi Geet Kathas during Navratri.
Morari Bapu's Net Worth
---
As of 2023, Morari Bapu's estimated net worth is around Rs 550 crore. This substantial figure reflects his prominence as a renowned spiritual leader, extensive philanthropic work, and widespread influence in various social and spiritual activities.
Morari Bapu Philanthropic Endeavors
---
Morari Bapu's benevolence extends beyond recitations. He initiated the Ram Katha for the third gender in Mumbai, highlighting his inclusive approach. He championed causes for women's welfare, red-light area inhabitants, soldiers' families, and disaster-stricken regions. His devotion to the construction of the Rama temple in Ayodhya remains unwavering.
Morari Bapu Controversies and Apologies
---
While his teachings garnered admiration, Morari Bapu faced controversies too. Controversial statements sparked debates within the Hindu community. He apologized for remarks that hurt devotees' sentiments. Nonetheless, his commitment to unity and reform remained steadfast.
Morari Bapu Legacy and Impact
---
 Morari Bapu's legacy transcends spiritual boundaries. His charitable work, dedication to uplifting society's marginalized, and efforts to spread the essence of Ramayana continue to inspire millions. His belief that spirituality is accessible to all echoes in his tireless work.
Conclusion
---
Morari Bapu's life is a testament to the power of spiritual devotion and compassion. His journey from a young reciter to a global spiritual icon exemplifies the potential for an individual's actions to bring positive change to the world.