Devi Chitralekha, a prominent figure in the realm of spirituality and devotion, is renowned as a young Indian spiritual saint, Bhagwat preacher, and motivational speaker. Her journey is marked by profound love, compassionate service, and inspiring teachings. do you know  Devi Chitralekha is on of the top 10 katha vachak in india
Devi Chitralekha's Biography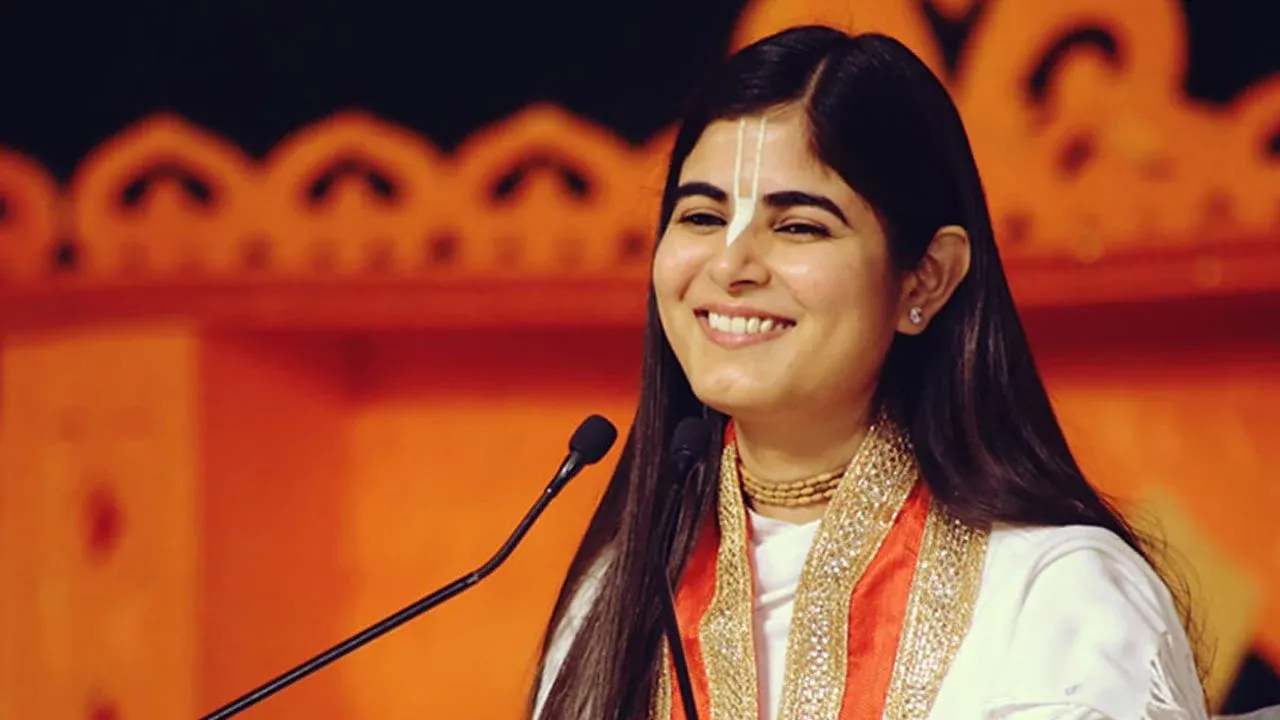 | Full Name | Devi Chitralekha |
| --- | --- |
| Profession | Spiritual Saint, Bhagwat Preacher, Motivational Speaker |
| Date of Birth | January 19, 1997 |
| Age | 23 years (as of 2020) |
| Birthplace | Khambi village, Palwal District, Haryana |
| Zodiac Sign | Capricorn |
| Physical Appearance | Height: 5′ 3″ |
| | Eye Color: Black |
| | Hair Color: Black |
| Family | – Father: Tukaram Sharma |
| | – Mother: Chameli Devi |
| | – Brother: Partyaksh Sharma |
| | – Husband: Madhav Prabhu Ji (Madhav Tiwari) |
| Initiation | Introduced to 'Gaudiya Vaishnavism' at age 4 |
| Spiritual Journey | Began preaching at age 6 |
| Impact | Renowned spiritual speaker and bhajan singer |
| Contributions | – Founded 'World Sankirtan Yatra Trust' for cultural preservation |
| | – Started 'Gau Seva Dham Hospital' for cow welfare |
| Recognition | Honored by "World Book Of Records" for youthful Bhagwat preaching |
| Characteristics | Advocate of vegetarianism, emotional involvement in pravachans |
| YouTube | Over 1 million subscribers on her YouTube channel |
Early Life and Background
Born on January 19, 1997, in the Khambi village of Palwal District, Haryana, Devi Chitralekha embarked on her spiritual journey at a young age. Raised in a Brahmin family, she was nurtured in an environment of devotion and spiritual values.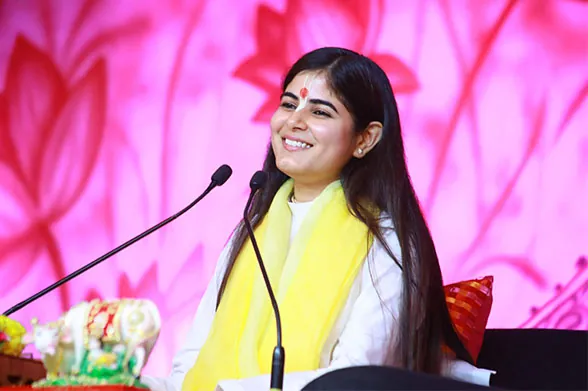 Devi Chitralekha': A Spiritual Calling
---
Devi Chitralekha's remarkable journey began with her initiation into 'Gaudiya Vaishnavism' at the age of four. Under the guidance of revered saints, she gradually emerged as a captivating spiritual speaker. Her spiritual eloquence came to light when she surprised everyone with her profound insights during a preaching event at six, setting the stage for her impactful journey as a motivational speaker.
Devi Chitralekha': Spreading Divine Wisdom
---
With an unwavering commitment to her spiritual path, Devi Chitralekha began delivering Kathas and Pravachans, enlightening audiences with her teachings and bhajans. Her journey gained momentum with her first 7-day-long "Shri Bhagwat Katha," showcasing her ability to deliver spiritually enriching discourses.
Also Check Other top katha vachak in india
Devi chitralekha's Marriage and Mission
In 2017, she married Madhav Prabhu Ji, and together, they embarked on a mission to spread the message of love and devotion. They founded the 'World Sankirtan Yatra Trust' to preserve Hindu culture, preach and serving cows.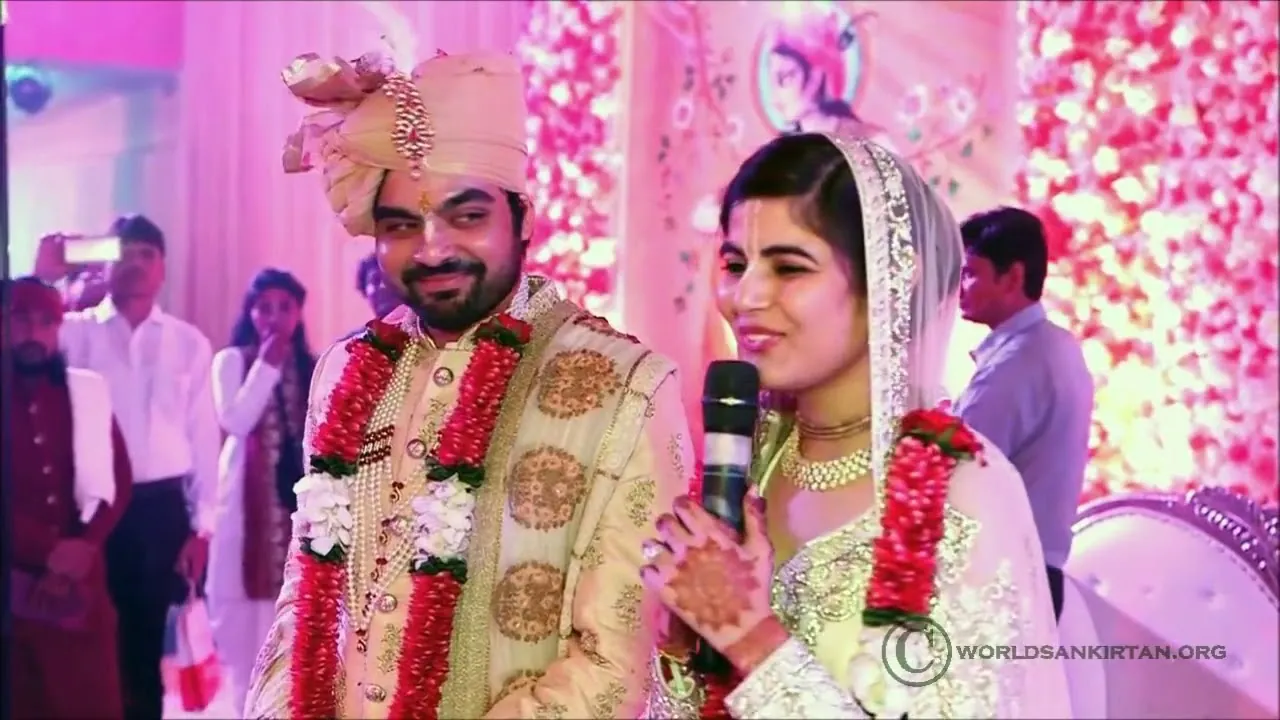 Wserveof Cows and Charitable Initiatives
Devi Chitralekha's compassion extended to the welfare of abandoned and injured cows. In 2013, she initiated the 'Gau Seva Dham Hospital' in Palwal, Haryana, a sanctuary for these animals. Her commitment to this cause reflects her holistic approach to spirituality and service.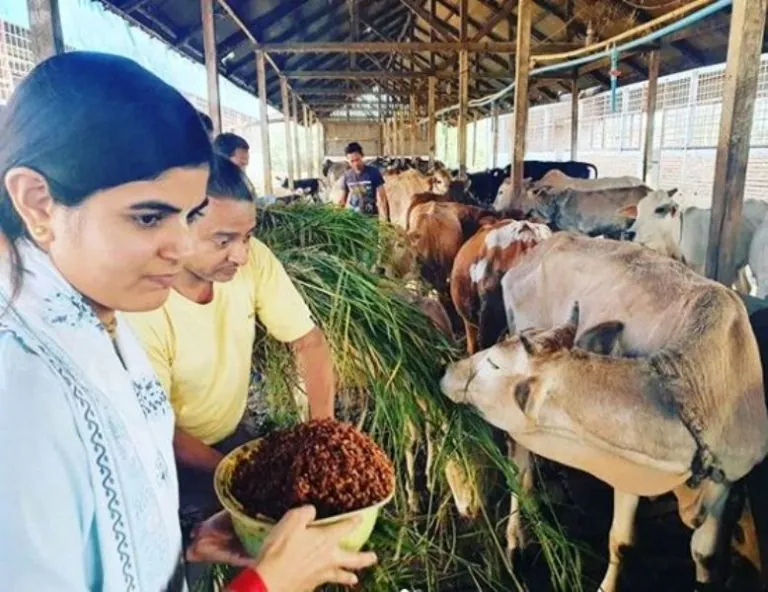 Devi Chitralekha's profound teachings and soulful bhajans have captured the hearts of millions. Her spiritual discourses are telecasted on various religious TV channels. Her dedication led her to receive recognition from the "World Book Of Records" for her youthful Bhagwat preaching.
Devi chitralekha's Inspirational Traits
Beyond her spiritual journey, Devi Chitralekha's love for playing the harmonium, advocacy for vegetarianism, and genuine emotional involvement in her pravachans set her apart as a relatable and compassionate spiritual leader.
Conclusion
Devi Chitralekha's journey is a testament to the transformative power of devotion, compassion, and service. As a beacon of spiritual wisdom, she continues to inspire and guide countless souls on the path of enlightenment, spreading the message of love, devotion, and unity.
To Learn More About More, Follow Us On Wikilistia. We Regularly Post Content Related To This Topic and Other Interesting Topics.