List of Top 10 Bhagwat Katha Vachak in India: India is a land of diverse religious beliefs and practices, and the spiritual teachings of Bhagwat Katha hold a special place in the hearts of millions. Bhagwat Katha Vachaks, or narrators of the sacred Hindu scripture Bhagwat Purana, play a crucial role in disseminating these scriptures' profound wisdom and teachings.
This article presents a comprehensive list of the top 10 Bhagwat Katha Vachaks in India who have earned immense reverence and respect for their profound knowledge, captivating narrations, and spiritual guidance. These renowned Katha Vachaks have made a significant impact in India and gained recognition and followers worldwide. Let's explore the names and details of these esteemed individuals who have dedicated their lives to spreading the essence of Bhagwat Katha.
Top 10 Bhagwat Katha Vachak in India List With Full Details 2023
---
1. Goswami Mridul Krishna Ji
Goswami Mridul Krishna Ji is one of India's most popular Katha Vachak. He was born in Vrindavan, Uttar Pradesh, India. He started his religious journey at the 16 at the bank of the holy river Ganga, Haridwar. He was born to Sri Mool Bihari Ji and Shrimati Shanti Goswami. He has two siblings, Atul Krishna and Vipul Krishna. He has memorized more than 8000 Sholas and Chopayees at 16. He has done more than 1200 Kathas worldwide in the past 36 years.
Read in detail: Goswami Mridul Krishna Biography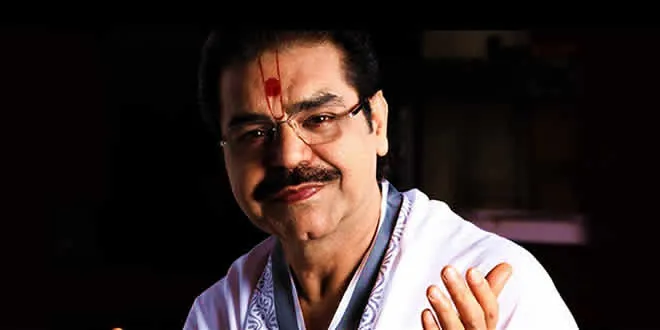 2. Acharya Shashikant Bhardwaj Ji
Acharya Shashikant Bhardwaj is a famous youth Bhagwat Katha Vachak born on 10 July 1992 in Bina, Sdhya Pradesh, India. He was taken to Shri Ram Swaroop Bhardwaj and Shrimati Kamla Devi. He has two siblings, Rishi Kumar Bhardwaj and Rakhi Bhardwaj.
He learned Shukla Yajurveda and Karmkand from Sanskrit Vidhyalay Bajrangarh, Guna, Madhya Pradesh. After that, he moved to Vrindavan, Uttar Pradesh, to learn Bhagwat Katha. He is one of the leading young Katha Vachak who did his first Bhagwat Katha in Vidisha, Village in MP, which is his mother's birthplace; he has done numerous Kathas and is a famous Bhagwat Katha Vachak from Vrindavan. You can contact him at the following phone number for Bhagwat Katha – 7500384899.
Read in detail: Acharya Shashikant Bhardwaj Biography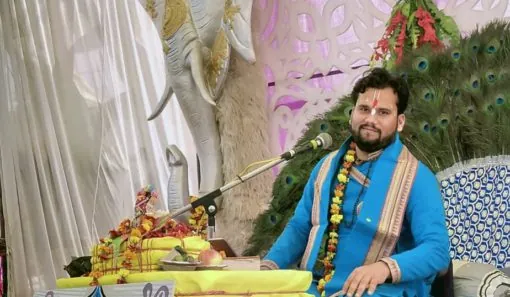 3. Shri Devkinandan Thakur Ji
Devkinandan Thakur is among the most popular and highest-paid Bhagwat Katha Vachak, highest-paid2 September 1978 in M, Mathura, Uttar Pradesh, India. The Uttar Pradesh government honoured him with UP Ratna Award for his charitable work. He founded World Peace Service Charitable Trust to spread peace worldwide, and Prime Minister Narendra Modi admired his work. He has been narrating the Bhagwat Katha and Ram Katha since 1997. Apart from India, he preached Katha in many countries, including America, Singapore, Malaysia, Thailand, Sweden, Denmark, Holland and Norway.
Read in Detail: Shri Devkinandan Thakur Biography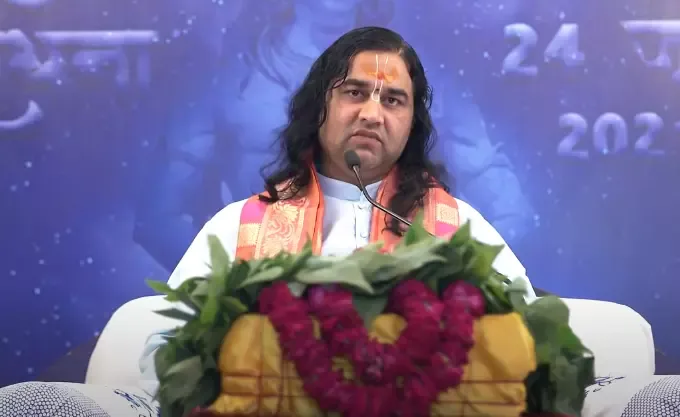 4. Morari Bapu
Morari Bapu is a Hindu spiritual leader and preacher born on 25 September 1946 in Talgajarda, Bhavnagar, Gujarat, India. He was taken to Prabhudas Bapu Hariyani and Savitri Ben Hariyani. He has six brothers and two sisters in his family. He is a well-recognized Ram Katha Vachak known for his work on social reforms. He preaches Ram Charit Manas and Bhagwat Katha not only in India but also in other countries. He preached Katha very first time at the age of 20. Morari Bapu's grandfather gave him a 300-year-old copy of Ramayana which he300-year-old with him. He also,o follows a vow of silence every Saturday.
Read in Detail: Morari Bapu Biography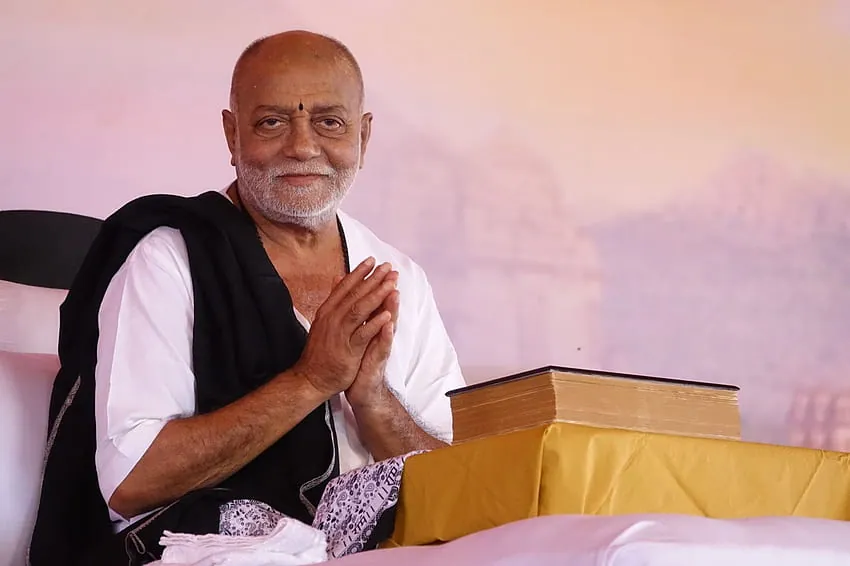 5. Jaya Kishori Ji
Jaya Kishori Ji is an Bhajan Singer and Katha Vachak who was boa on 13 July 1995 in Kolkata, Wes, India. The birth name of Jaya Kishori Ji is Jaya Sharma. She was born to Shiv Shankar Sharma and Soniya Sharma and she has a sister named Chetna Sharma. S, he attracted towards spirituality at the age of 7 years. She has preached around 350 Kathas in her career. Apart from being a Katha Vachak, she is also a famous Bhajan singer who has a huge fan following on various with media platforms. She won several awards, including Fame India – Asia Post Survey Youth Icons in 2019.
Read in Detail: Jaya Kishori Ji Biography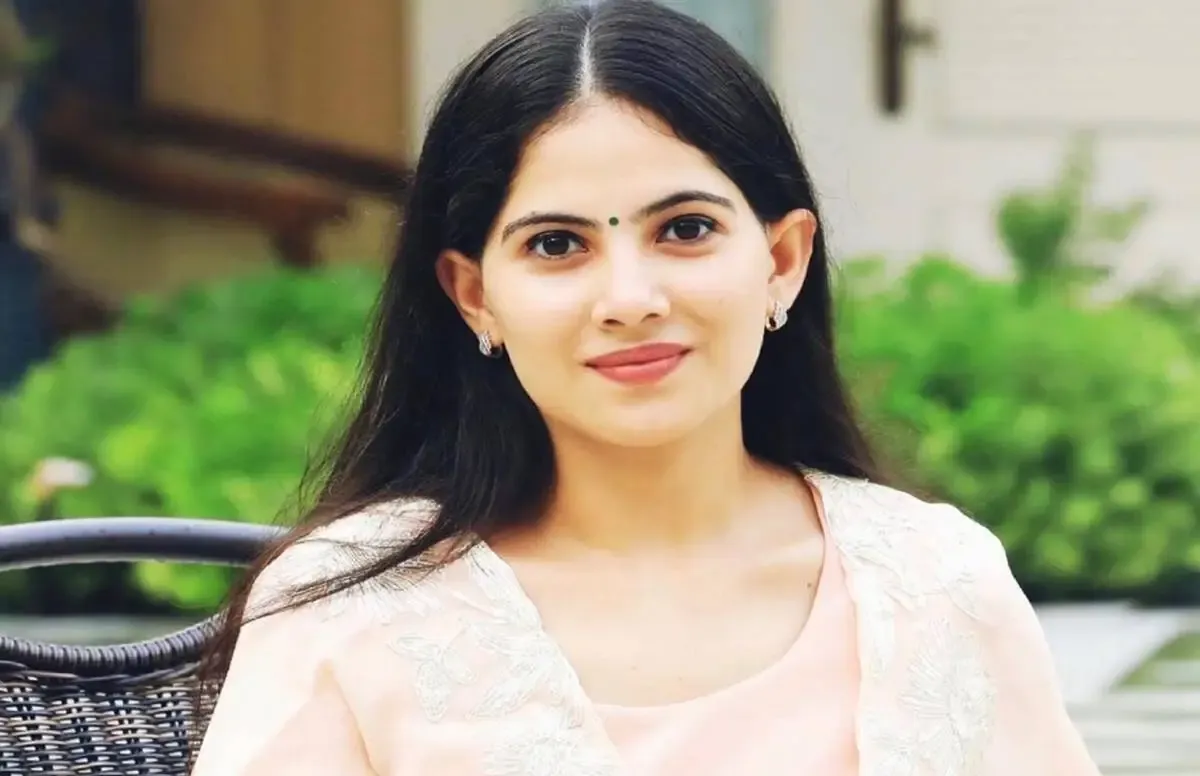 6. Acharya Gaurav Krishna Goswami Ji
Acharya Gaurav Krishna Goswami Ji is a well-known Katha Vachak born on 6 July 1984 in Vrindavan, Uttar Pradesh, India. He was taken to Mridul Krishna Goswamiji and Shreturnedti Vandana Goswamiji. He is a famous Katha Vachak and a viral Bhajan singer. He narrated his first Katha Bhagwat Katha.
He sang so many iconic Bhajans, including "Braj Chourasi Kos Yatra", "Braj Chourasi Kos Yatra", and "Shyam Diyan Chor Ankhiyan". He also managed the Shri Bhagwat Mission Trust, which holds a cow shelter known as Shri Radha Sneh Bihari Ashram in Vrindavan.
Read in Detail: Acharya Gaurav Krishna Goswami Ji Biography
7. Devi Chitralekha
Devi Chitralekha is a female Katha Vachak born on 19 January 1997 in Khambi, District Palwal, Haryana, India. She returned to Shri Tikaram Sharma and Smt. Chameli Devi. Chitralekha Ji was associated with GAUDIYA VASHNAVISM at the age of 4 years. Chaitanya Mahaprabhu founded GAUDIYA VASHNAVISM.
She started her religious journey under the shelter of Shri Shri Girdhari Baba, who is a Bangali saint. She was a spiritual Bhajan Bengali at an early age, but later, she started preaching "Shri Bhagwat Katha" for seven days. She is also one of the highest-paid Katha Vachak in India.
Read in Detail: Devi Chitralekha Biography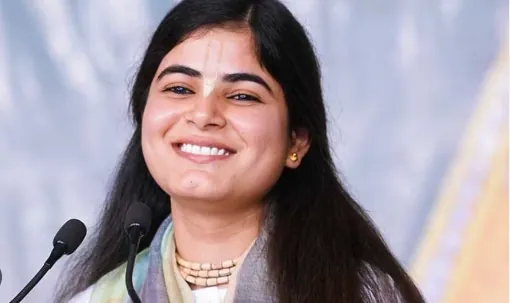 8. Shri Indresh Upadhyay Ji
Shri Indresh Upadhyay ji is a youth Katha Vachak who was born on 7 August 1997 in Vrindavan, Pradesh, India. He was taken to Smt. Vandana Goswami and Shri Krishna Chandra Shastri (Thakur Ji) are well-known Katha Vachak, and Bhajan singers. Indresh Ji completed his primary education at the Kanaha Makhan Public School, Vrindaatand. Later, he memorized and learned Shrimad, Bhagwat Mahapuran at 13. He is a rising Katha Vachak and a danger, lyricist, and commanded who followed his father's suits and became a popular Katha Vachak by spreading religious wisdom in society.
Read in Detail: Indresh Upadhyay Biography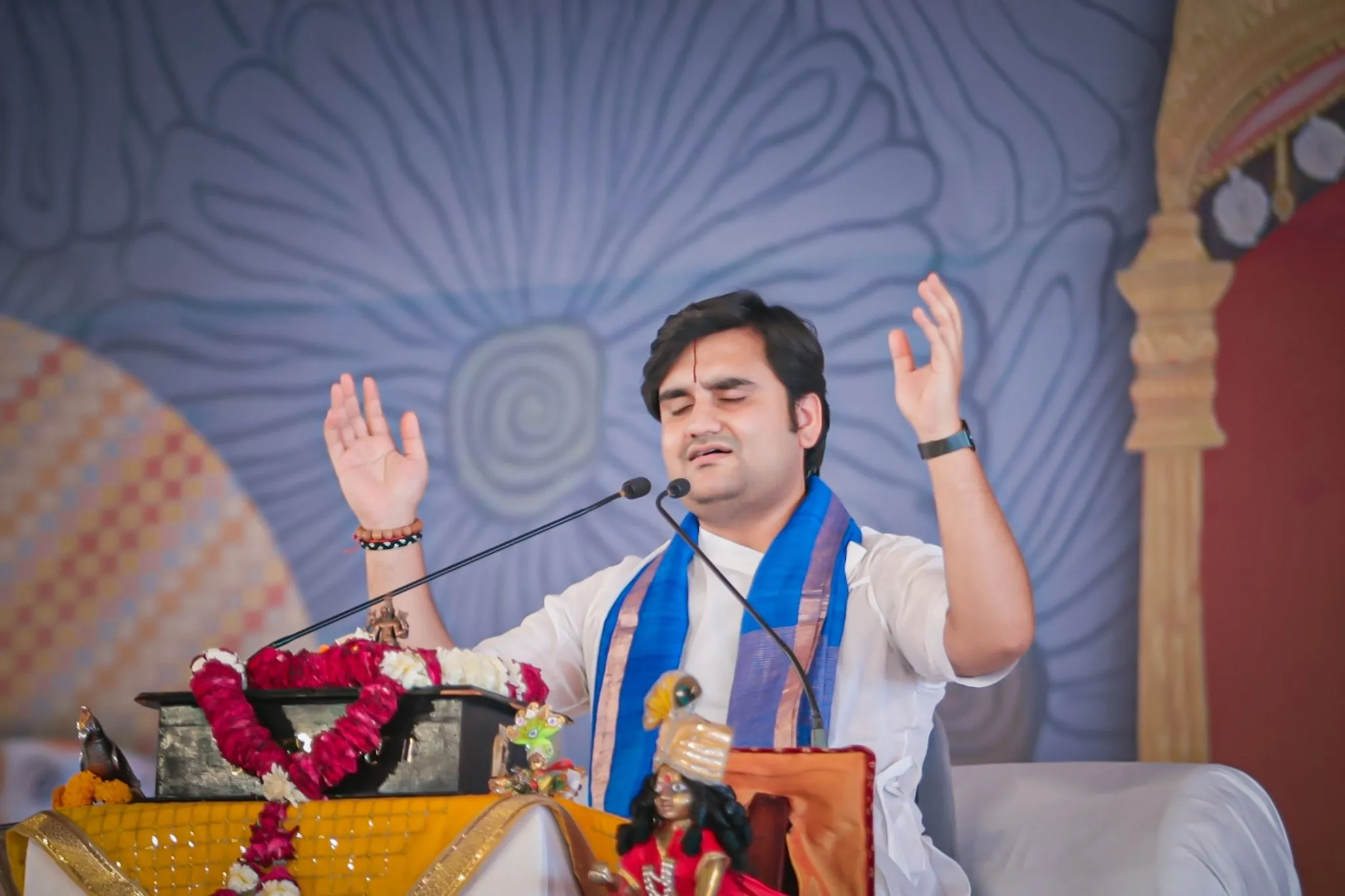 9. Shri Chinmayanand Bapu Ji
Shri Chinmayanand Bapu Ji is a notable Katha Vachak born on 4 December 1980 in Gaipura village, Mirzapur, Uttar Pradesh, India. He was taken to Shri Hari Shankar Pandey and Smt. Rekha Pandey. He narrated his first Katha at the early age of 14 in Bundi, Rajasthan. He is known for his way of telling the Mahabharata, Srimad Bhagwat and Rama Charitra Manas in his musical voice.
He has preached more than 700 Kathas around the world in various countries. Shri Chinmayanand Bapu Ji has founded The World Welfare Mission Trust which works for the welfare of the soc,iety in multiple aspects, including the marriage of poor sisters, free education service for poor children, assistance to saints, and service to cow mothers.
Read in Detail: Chinmayanand Bapu Ji Biography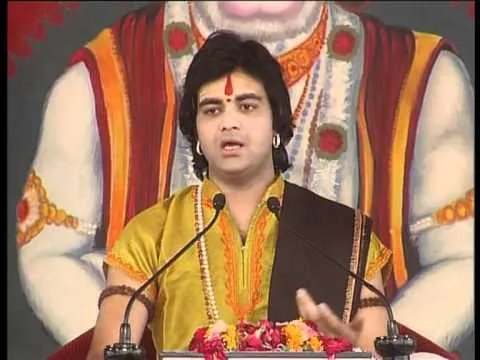 10. Swami Avdheshanand Giri Ji Maharaj
Swami Avdheshanand Giri Ji Maharaj is an Indian Hindu spiritual leader, author, philosopher and preacher born on 24 November 1962 in Khurja, Bulandshahr district, Uttar Pradesh, India. He is called the ocean of knowledge and wisdom because of his ultimate and intellectual personality.
He is the President of Hindu Dharma Acharya Sabha and Spiritual Head of the Largest Organization of saints. H.H. Swami ji has been awarded an Honorary Doctorate in Literature. In addition, Swami Avdheshanand Giri Ji Maharaj has been honoured by spiritual organisations for His outstanding contribution to society's welfare. He has narrated thousands of Athas worldwide and is a reputed name in the religious world.
Read In Detail: Acharya Swami Avdheshanand Giri Biography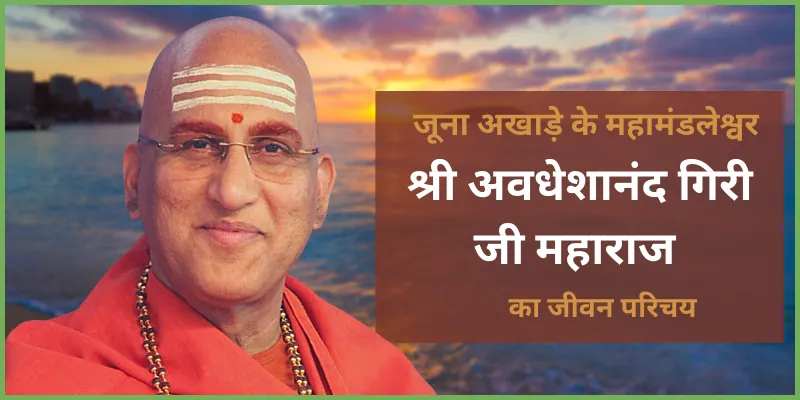 Read More about: List of Highest Paid Motivational Speakers in India
Video On Top Kathavachak in India 2023-2024 | Top 10 katha vachak By Apka Dinesh Tiwari
People Want To Know:
Who is the number Bhagwat Katha Vachak teller in India?
Jaya Kishori ji is the most famous Bhagwat Katha Vachak. Her full name is Jaya Sharma.
Who is the famous Ram Katha Vachak of India?
Krishna Chandra Shastri ji is known among the famous Ram Katha Vachak of India today.
How much does it cost to conduct Bhagwat Katha?
you should have ₹ 2,00000 (two lakhs) at least to get Bhagwat Katha done. There is no maximum limit. You can also get Bhagwat Katha done from 2 lakh to 1 crore.
What are the benefits of Bhagwat Saptah?
It supports in a person's inner and outer purification. On Ekadasi, everybody who hears the Bhagwatam is blessed with long life. Benefits: Reciting the Srimad Bhagavat gives all Krishna devotees with escape from all sorrows and spiritual elevation.
Conclusion
The top 10 Bhagwat Katha Vachaks in India listed above have dedicated their lives to spreading the profound wisdom and teachings of the Bhagwat Purana. Through their captivating narrations, these revered individuals have inspired and guided millions on the path of spirituality. Their knowledge, devotion, and ability to connect with audiences have made them revered figures in the realm of Bhagwat Katha. As they continue to touch lives and instill faith, their contributions to the spiritual landscape of India remain invaluable.
Be in the know and stay ahead of your peers! Get the latest news and updates first-hand at Wikilistia.com.