Discover the remarkable journey of Rashtriya Sant Shri Chinmayanand Bapu Ji, a revered spiritual leader and philanthropist whose life has been devoted to the teachings of Hinduism and the welfare of humanity.
From a humble beginning in Kalna, Uttar Pradesh, to becoming a renowned Bhagwat Katha preacher and educator, his story is a testament to unwavering faith, profound knowledge, and a deep-seated commitment to spiritual growth.
Explore the pivotal moments that shaped his path, his dedication to spreading ancient wisdom, and his profound impact on followers across India and beyond.
Biography: Rashtriya Sant Shri Chinmayanand Bapu Ji
Rashtriya Sant Shri Chinmayanand Bapu, a renowned spiritual leader and philanthropist, has dedicated his life to the teachings of Hinduism and the well-being of people. Born as Udayprakash on December 4, 1980, in Kalna near the holy river Ganga in Mirzapur, Uttar Pradesh, his early life foreshadowed the brilliance that would later characterize his spiritual journey.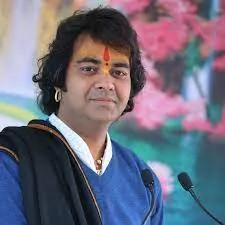 Bhagwat Katha Vachak Journey: From a Young Devotee to Renowned Preacher
Chinmayanand Bapu's spiritual journey began at a tender age of nine when his deep devotion led him to immerse himself in the study of Bhagwat Katha and Bhagwat Gita. At this young age, he chose to follow the path of spiritual growth and embarked on a quest to become a saint.
Recognizing the need for guidance, he received diksha from the experienced guru, Shri Shri 1008 Mahamandaleshwar sri Ram Kumar ji Maharaj, and adopted the name Chinmayanand Bapu. Even in his youth, he surprised many, including his guruji, with his ability to narrate the Ram Katha stories.
Chinmayanand Bapu Ji's Education: A Quest for Spiritual Knowledge
Chinmayanand Bapu's thirst for spiritual knowledge led him to Ayodhya, where he delved into the study of Shastras, Vedas, Upnishadas, and Sanskrit under the guidance of his teacher. His dedication culminated in earning a "Shastri" degree in Sanskrit grammar in the year 2000.
Seeking solitude to nurture his spiritual growth, he spent years in meditation by the Mandakini river in Chitrakoot. Engaging in swadhyay and subsisting on a diet of vegetables and fruits, he immersed himself in the study of Mahabharata, Shrimad Bhagwat Katha, Shrimad Bhagwat Gita, and Ramcharit Manas "Ramayan."
Establishing Chinmaya Dham and Spreading Spiritual Wisdom
Chinmayanand Bapu's unwavering commitment led to the establishment of Chinmaya Dham, his ashram in Haridwar. He extended his spiritual influence by contributing to various temples including the Radhe Krishna Mandir in Hyderabad, Shri Vaid Mandir in Ayodhya, and Panchmukhi Hanuman Mandir in Gujrat.
His teachings reached a wide audience through TV stations like Astha TV, Sanskar, and Shraddha. He engaged in continuous discourse and connected with people all over the country, delivering passionate talks on Ram Katha and Shrimad Bhagwat Katha.
Read More About Other most expensive katha vachak in india
Chinmayanand Bapu Ji's Inspirational Influence and Global Reach
Chinmayanand Bapu's eloquence in public speaking and melodious singing voice garnered a following of over 100,000 people in India. His profound understanding of Shri Ram ji, Shri Hanuman ji, and his ability to convey the essence of Shri Ram Katha and Shrimad Bhagwat Katha resonated deeply with his followers.
A true embodiment of devotion and service, he has spread the teachings of Hinduism while ensuring the happiness and well-being of people. His impact extends beyond borders, as he has shared his wisdom and teachings in more than 16 or 17 locations around the world.
Stay updated and be at the cutting edge with Wikilistia.com's latest news and updates. Don't miss out on this valuable information!