Acharya Sri Mridul Krishna Maharaj, known to the world as Mridul Krishna Shastri, is a revered figure who has touched the hearts of countless devotees through his profound narrations of the Bhagavata Purana and his soul-stirring bhajans. His life journey is a testament to his unwavering commitment to the teachings of Krishna and his dedication to spreading the message of love, devotion, and spirituality.
Mridul Krishna Bio
---
| | |
| --- | --- |
| Personal Information | |
| Full Name | Acharya Sri Mridul Krishna Maharaj |
| Profession | Narrator of The Bhagavata Purana Katha and Bhajan Singer |
| Physical Stats | |
| Height | 172 cm / 5′ 8″ |
| Weight | 75 kg / 165 lbs |
| Eye Colour | Black |
| Hair Colour | Black |
| Personal Life | |
| Date of Birth | Not Known |
| Nationality | Indian |
| Hometown | Vrindavan, Uttar Pradesh, India |
| Education | Sanskrit Sampoornanand Vishwa Vidhyalaya, Kashi, Varanasi (Shashtry in Sanskrit) |
| Family | |
| Father | Sri Mool Bihariji |
| Mother | Shrimati Shanti Goswami |
| Brother | Atul Krishna, Vipul Krishna |
| Religion | Hinduism |
| Address | Vrindavan, Uttar Pradesh, India |
| Marital Status | Married |
| Wife | Shrimati Vandana Goswamiji |
| Son | Gaurav Krishnaji (Narrator of the Bhagavad Katha, Bhajan Singer) |
Mridul Krishna Early Life and Lineage
---
Born into the sacred land of Vrindavan, Uttar Pradesh, Mridul Krishna Shastri embodies a rich spiritual heritage. He hails from the lineage of Swami Haridas, a luminary during Akbar's era and the spiritual mentor of renowned musicians Tansen and Baijubawra. Mridul Krishna Shastri's childhood was steeped in devotion as he spent his formative years serving Bihariji and accompanying his father during the Bhagavata Purana Kathas.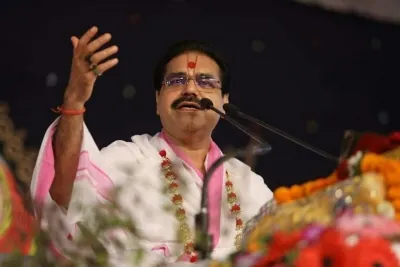 Education and Mastery
---
His educational journey led him to Sanskrit Sampoornanand Vishwa Vidhyalaya in Kashi, Varanasi, where he pursued a Shashtry in Sanskrit, achieving mastery in the language. He imbibed the teachings of Bhagavata and the nuances of Sanskrit under his father's guidance, setting the stage for his future role as a narrator and spiritual guide.
Mridul Krishna Family Life
---
Shri Mridul Krishna Shastri Ji's marital journey is intertwined with his spiritual calling. His wife, Shrimati Vandana Goswamiji, stands as a pillar of support in his mission to spread love and devotion. Her partnership in his spiritual endeavors adds a profound dimension to their family life as they work together to touch the lives of countless seekers.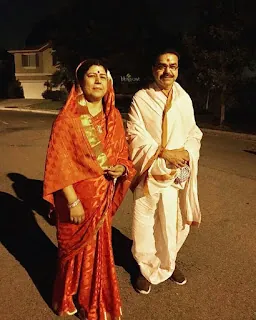 The family of Shri Mridul Krishna Shastri Ji is further enriched by the presence of their son, Gaurav Krishnaji. Gaurav Krishnaji follows in his father's footsteps and adds his unique voice to the spiritual legacy. 
Mridul Krishna's Ordination and Devotional Journey
---
At the tender age of sixteen, Mridul Krishna Shastri was ordained as his father's next narrator of the Bhagavata Purana in Haridwar, India. This marked the beginning of a remarkable journey that has spanned over 36 years and witnessed the completion of 700 Bhagwat Kathas. His mastery over 8000 shlokas and chalupas of Shri Ramcharitmanas showcases his profound understanding of these timeless scriptures.
top bhagwat katha vachak in india 2023
Teachings and Contributions
---
Mridul Krishna Shastri's narrations emphasize the importance of cultivating a deep love for God in human life. Through his insights into the Bhagavata Purana, he sheds light on the unconditional love of the Gopis for Lord Krishna, demonstrating that this pure devotion binds the divine. His dedication isn't confined to words alone; he has dedicated his life to constructing Krishna temples and propagating the Bhagavata Purana's teachings.
Mridul Krishna Goswami Best Bhajan
---
Aao Meri Sakhiyon Mujhe Mehndi Laga Do"
"Hum Prem Deewani Hain, Wo Prem Deewana"
"Rang Mein Kaise Holi Khelungi"
"Aaj Braj Mein Holi Re Rasiya"
"Teri Ankhiyan Hain Jadu Bhari"
"Jai Jai Radha Raman Hari Bol"
"Shyam Meri Chunri Mein Lag Gayo"
"Madhurashtakam Adharam Madhuram Badanam Madhuram"
"Main To Banke Ki Banke Ban Gayi"
"Kanhaiya Le Chal Parli Par"
"Mujhe Charano Se Laga Le"
"Lagi Tum Sang Yaari Banke Bihari"
Mridul Krishna's Shri Bhāgavata Mission Trust
---
Establishing the Shri Bhāgavata Mission Trust is a testament to Mridul Krishna Shastri's commitment to serving humanity. The trust runs projects like the Shri Radharani Gaushala, housing 150 cows, and the Shri Radha Sneh Bihari Ashram, offering accommodation and sustenance to visitors. The trust's monthly Hindi magazine, Mridul Chintan, and its religious cable television channel, Adhyatma, further spread his teachings.
Mridul Krishna Shastri's profound wisdom and relatable interpretations have transcended geographical boundaries. His Bhagavata Purana Kathas are not only revered in India but also resonate with audiences worldwide. Televised on channels like Adhyatma and Aastha TV, his narrations have reached the hearts of countless seekers, inspiring them on their spiritual journeys.
Shri Mridul Krishna Shastri Ji's Mridul Chintan
---
Shri Mridul Krishna Shastri Ji's dedication to spreading knowledge extends to the publication of the monthly magazine 'Mridul Chintan,' where topics range from his insights and messages for society to directions for the youth. Additionally, his organization launched the 'Adhyatma' television channel, where his stories and other religious programs are broadcast.
Shastri Ji's love for the cow dynasty, dear to Lord Krishna, has led to the establishment of the 'Radha Rani Gaushala.' This sanctuary in Vrindavan cares for abandoned and helpless cows, ensuring their well-being, sustenance, and health.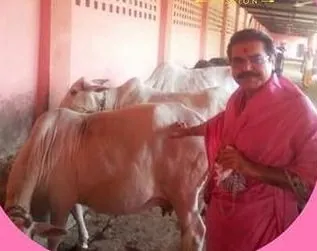 Conclusion
---
Acharya Sri Mridul Krishna Maharaj's life is a testament to the transformative power of devotion and spiritual understanding. His dedication to the teachings of the Bhagavata Purana, his melodious bhajans, and his establishment of various spiritual initiatives have left an indelible mark on the hearts of those who seek spiritual guidance. Mridul Krishna Shastri's legacy will shine as a beacon of light, illuminating the path of devotion and wisdom for future generations.
Stay informed and be at the forefront of knowledge with Wikilistia.com's latest news and updates. Don't miss out!