As fans of the hit series Sex Education eagerly await the premiere of its fourth season, they brace themselves for an emotional journey as the show bids farewell to the small screen. Creator Laurie Nunn's heartfelt announcement revealed that the upcoming season would be the final chapter in the beloved coming-of-age tale that has captivated audiences worldwide. 
With its unique blend of humour, candid discussions, and authentic portrayals of love, friendship, and self-discovery, Sex Education has left an indelible mark on television history. Join us as we explore the reasons behind the show's conclusion and celebrate the legacy it leaves behind, a gift that has made fans feel less alone and fostered open conversations about crucial topics. Get ready to say goodbye to Otis, Maeve, Eric, and the other unforgettable characters who have become like friends as we embark on one last unique journey into the world of Sex Education.
Farewell Announcement: Creator Laurie Nunn's Heartfelt Decision
---
In a heartfelt letter to fans, Sex Education's creator, Laurie Nunn, announced that the upcoming fourth season would be the show's final instalment. Despite being a difficult decision, Nunn explained that as the writers crafted the themes and stories for season four, they realized it was the right time to bid farewell. Nunn expressed gratitude to the show's dedicated fanbase and the team behind the series, acknowledging its impact on fostering open conversations about love, sex, friendship, and self-discovery.
The Final Season's Premiere Date: Marking the End of an Era
---
Collider states that Netflix announced that the eagerly anticipated fourth and final season of Sex Education would premiere on September 21. Fans will eagerly await the conclusion of the characters' journeys and the resolution of the series' storylines. With nearly two years since the arrival of the third season, viewers are preparing to say goodbye to their favourite characters and bid farewell to a beloved show that has left an indelible mark on television.
Cast Returns and New Additions: A Bittersweet Ensemble
---
The final season will see the return of fan-favourite cast members, including Asa Butterfield as Otis, Gillian Anderson as Jean, Ncuti Gatwa as Eric, and Emma Mackey as Maeve, among others. The ensemble has been integral to the show's success, with each actor bringing depth and authenticity to their characters.
 The final season will introduce new cast members, including Emmy-winning Schitt's Creek star Dan Levy, Thaddea Graham, Lisa McGrillis, Marie Reuther, Jodie Turner-Smith, and several newcomers. While fans are excited to see new faces, the departure of beloved characters after the third season has left a bittersweet feeling about the show's conclusion.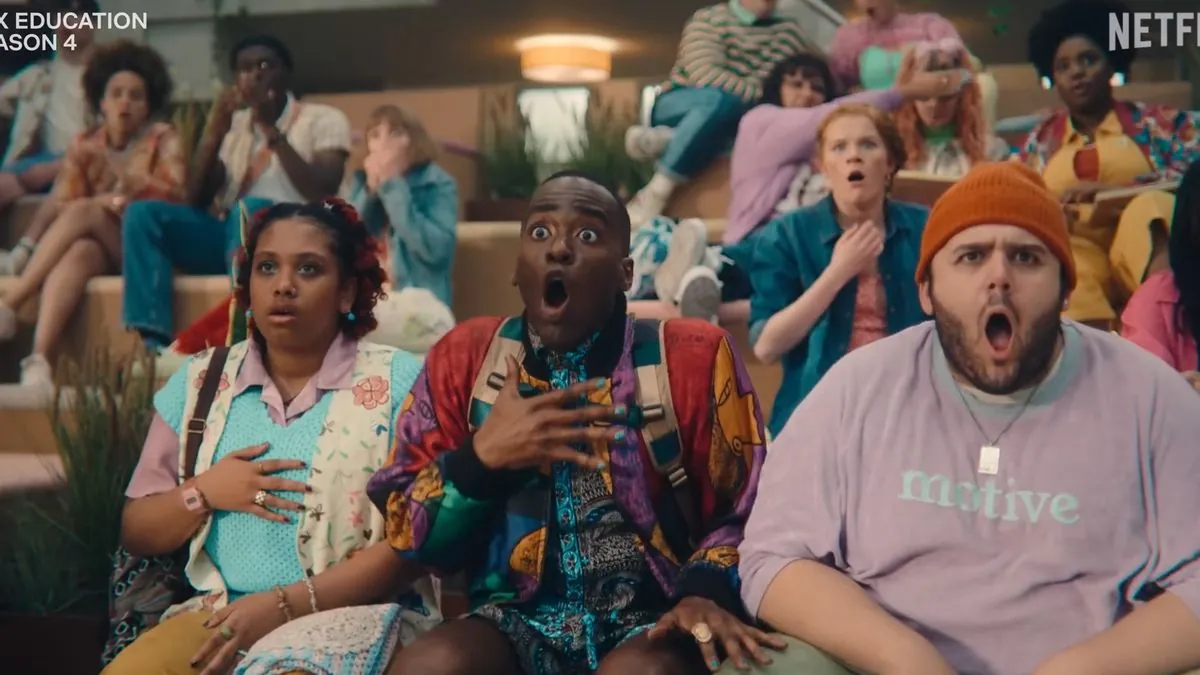 Discover a wealth of captivating news and updates by exploring the articles below:
An Award-Winning Show: Sex Education's Impact on Audiences
---
Throughout its run, Sex Education has been an awards player for Netflix, earning accolades and recognition for its compelling storytelling and diverse representation. The show's ability to connect with audiences worldwide and foster discussions about essential topics such as sexuality, relationships, and self-discovery has been its hallmark. The show's impact and success are evident, with its third season earning the title of Best Comedy Series at the 50th International Emmy Awards.
Celebrating the Impact of Sex Education
---
As fans prepare to say goodbye to Sex Education, they can cherish the memories, laughter, tears, and unforgettable moments the show has provided. From its inception, the series aimed to answer questions about love, sex, friendship, and adolescence, and it succeeded in making viewers feel less alone in their journeys. The legacy of Sex Education will endure as it continues to resonate with audiences and remains a relevant and cherished part of television history.
Conclusion
---
In conclusion, the decision to end Sex Education with its fourth season comes with mixed emotions for fans and creators alike. While bidding farewell to beloved characters and a show that has made a significant impact is never easy, viewers can look forward to a satisfying conclusion to the narrative. As the final season approaches, let us celebrate the show's accomplishments and the profound connections it has forged with its audience. Farewell, Sex Education – thank you for the laughter, tears, and unforgettable moments.
Gain a competitive edge with Wikilistia.com! Stay ahead of the curve and stay informed with our latest news and updates.