The anticipation for releasing the much-awaited Tamil movie "Aneethi" is reaching a fever pitch among fans, especially Arjun Das fans. As the countdown begins, movie enthusiasts are eager to mark their calendars for the OTT release date on Aha. Directed by Vasanthabalan, "Aneethi" is poised to deliver an engaging cinematic experience. This article delves into the details surrounding the film's release, cast, and much more.
Aneethi Overview
---
| | |
| --- | --- |
| Name of the Movie | Aneethi |
| Language | Tamil |
| Director | Vasanthabalan |
| Producer | M Krishna Kumar, Murugan Gnanavel, Varadharajan Manickam and Vasanthabalan |
| Writers | S.K. Jeeva, Rajasekhar Reddy and Vasanthabalan |
| Music by | G.V. Prakash Kumar |
| Cinematography by | A.M. Edwin Sakay |
| Editing by | Ravikumar M |
| Staring | Arjun Das and Dushara Vijayan |
| Theatre Release Date | July 21, 2023 |
| Aneethi OTT Release Date | August 23, 2023 |
| Film Industry | Tamil Flim Industry |
Aneethi OTT Release Date
---
Movie lovers are in for a treat as "Aneethi" gears up to captivate audiences with its intriguing storyline. The film's theatrical release occurred on July 21, 2023, in the Tamil film industry, marking its initial introduction to the audience. 
However, for those who missed the chance to catch it on the big screen, there's exciting news – "Aneethi" is set to release on the popular OTT platform Aha on August 23, 2023. The movie showcases a compelling narrative that promises to keep viewers glued to their screens from start to finish.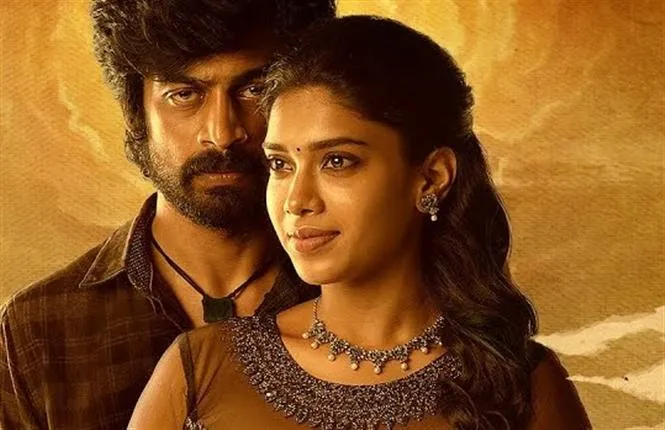 Aneethi Tamil Movie Budget
---
Cinefry reported that the Tamil movie "Aneethi" has been crafted with a budget of ₹5 crore. This budget allocation encompasses various aspects of the film's production, including pre-production, shooting, post-production, marketing, distribution, and other associated costs. 
While the film maintains a relatively modest budget, it's important to note that budget figures can vary depending on the production's specific requirements, the film's scale, and the resources allocated to different elements such as cast, crew, locations, special effects, and more. 
Is Aneethi Movie Hit or Flop?
---
According to newsroompost, the Tamil movie "Aneethi" is considered a "Hit." This designation likely indicates that the film has garnered positive reception from audiences and critics alike, and it might have performed well at the box office in terms of ticket sales and audience engagement
If you can't get enough of movie news, we've got you covered with an assortment of fresh and exciting articles guaranteed to keep you entertained.
Aneethi Cast and Crew
---
The movie boasts a talented ensemble cast, with Arjun Das and Dushara Vijayan in the lead roles. These actors are joined by Suresh Chakravarthi, Vanitha Vijayakumar, Pugazh, Kaali Venkat, and Sha Ra, who contribute to the diverse and dynamic ensemble. The directorial prowess of Vasanthabalan, along with the collaborative efforts of writers S.K. Jeeva and Rajasekhar Reddy, ensures that "Aneethi" offers a seamless blend of storytelling and compelling performances.
Aneethi Plot and Themes
---
While specific plot details are still under wraps, the buzz surrounding "Aneethi" suggests a movie that delves into intricate themes and engaging narratives. The film's title, which translates to "injustice," hints at a storyline that could potentially explore moral dilemmas, social issues, and the complexities of human behaviour. With Vasanthabalan at the helm, audiences can expect a thought-provoking cinematic experience that resonates long after the credits roll.
Where to Watch Aneethi?
---
Aha has emerged as a preferred choice for movie buffs seeking premium content, and "Aneethi" will undoubtedly be a valuable addition to its impressive lineup.
Aneethi Movie Trailer
---
Final Thoughts
---
As the release date of "Aneethi" draws near, the excitement among fans is palpable. With a stellar cast, engaging storyline, and the directorial prowess of Vasanthabalan, the film promises an enthralling cinematic experience. Be sure to mark August 23, 2023, on your calendars and prepare to immerse yourself in the world of "Aneethi" on Aha, where meaningful storytelling and riveting performances await. Get ready to be captivated by this must-watch Tamil movie that will undoubtedly leave a lasting impact on audiences.
To Learn More About More, Follow Us On Wikilistia. We Regularly Post Content Related To This Topic and Other Interesting Topics.