If you're searching for child-friendly films, this list of the Best G-Rated Movies currently available on Disney Plus is perfect for family viewing. Disney Plus boasts an extensive collection of productions, including adult-oriented movies, 4K films, action-packed adventures, Marvel movies, series, and documentaries. To cater to younger audiences, we've compiled a list of G-Rated movies appropriate for all ages.
According to the Motion Picture Association, G-Rated movies are suitable for General Audiences, as they do not contain themes, language, nudity, sex, violence, or other elements that would be inappropriate for young children.
These movies feature uplifting messages, vibrant characters, and captivating storylines, creating a welcome escape from the pressures of daily life. So gather your loved ones, pop some popcorn, and embark on a heartwarming adventure into the realm of G Rated movies.
From timeless animated classics like "The Lion King" and "Toy Story" to thrilling live-action movies such as "Harry Potter" and "The Chronicles of Narnia," the G Rated movie genre offers a wide variety to suit every preference.
Best Kids Movies List on Disney Plus to Stream in 2023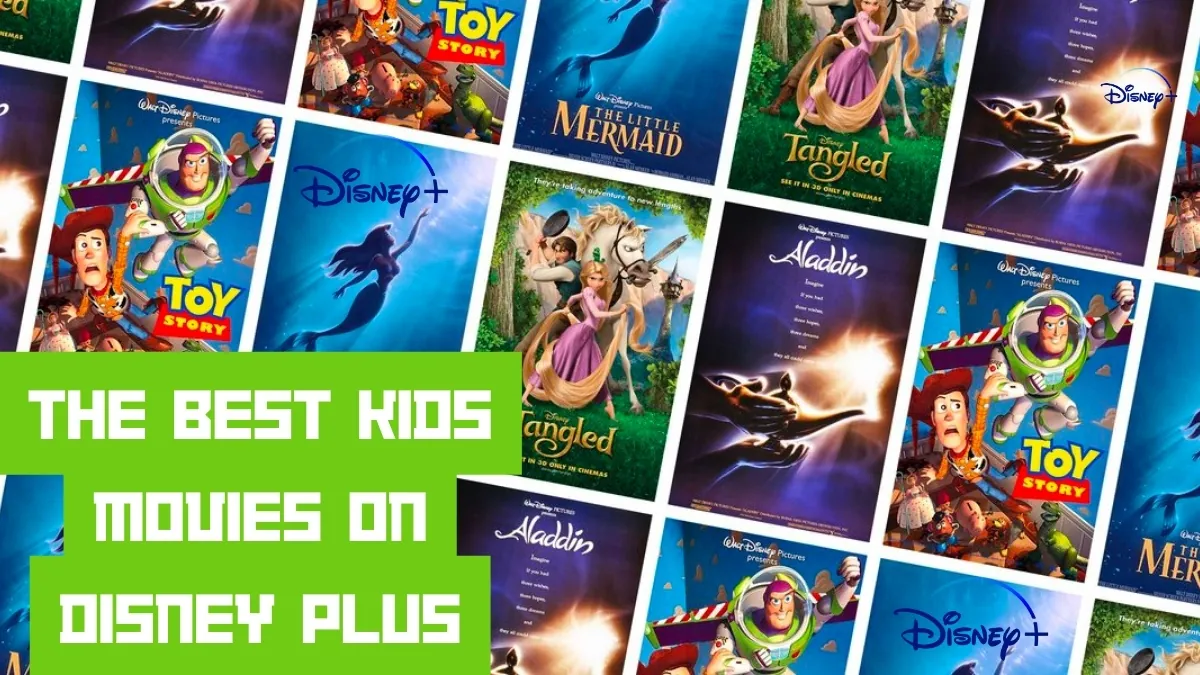 1. Ratatouille (2007) – IMDb – 8.1/10
An incredible and touching story for everyone, this stunning animation narrates the adventures of the amusing and adorable rat, Remy, who has a passion for cooking and aspires to be a chef. He eventually forms a friendship with a worker at one of Paris's finest restaurants and even assists him in winning over the girl he admires. In a final attempt to rescue the restaurant's prestige, Remy chooses to create and present a Ratatouille dish.
Some key details about the film include:
Cast: The film features voice acting from Patton Oswalt as Remy, Lou Romano as Linguini, and Janeane Garofalo as Colette, among others.
Release: Ratatouille was released in 2007 and was the eighth film produced by Pixar.
Box Office: The film had a budget of $150 million and grossed $623.7 million at the box office.
Awards: Ratatouille won the Academy Award for Best Animated Feature and was nominated for four other Academy Awards
2. Monsters, Inc. (2001) – IMDb – 8.1/10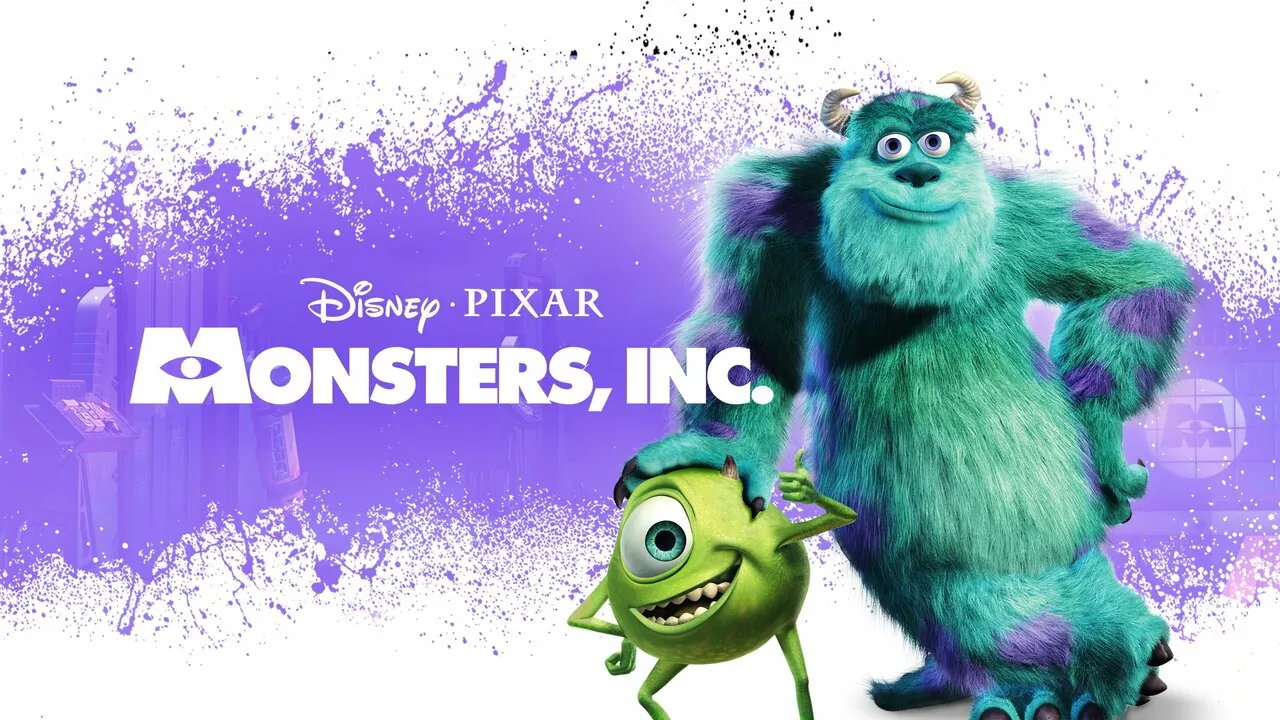 Introducing the most adorable monster tale ever told. We encounter a young human girl named Boo, who inadvertently finds herself in a fantastical realm where various monsters train and work in a factory that collects children's screams to power their city. The large blue Sulley (voiced by John Goodman) and his round green companion Mike Wazowski (voiced by Billy Crystal) must race against time to return the little girl to her world before it's too late. However, the devious purple, eight-legged lizard-like creature Randall (voiced by Steve Buscemi) stands in their path.
3. Winnie the Pooh (2011) – IMDb – 7.1/10
A beautifully animated film that chronicles the adventures of Winnie the Pooh and his companions as they set out on a quest to locate Eeyore a new tail.
4. Wall-E (2008)- IMDb – 8.4/10
One of the most beloved science-fiction comedy tales, enjoyed by both children and adults, is the story of Wall-E. This endearing little robot, designed for compressing garbage, spends his days on a future Earth that has become deserted and uninhabitable. His life takes a turn when he encounters Eve, a sleek, female robot. The film features the voice talents of Ben Burtt, Elissa Knight, Jeff Garlin, John Ratzenberger, Kathy Najimy, and Sigourney Weaver.
In this thought-provoking Pixar film, the narrative delves into a dystopian future where Earth is buried under mountains of trash. The story revolves around the romantic relationship between two robots who embark on a mission to rescue humanity.
As humans grow increasingly indolent, Captain B. McCrea, portrayed by Jeff Garlin, uncovers a new system and allows AUTO, the autopilot function, to take control of the ship. However, AUTO has a hidden agenda of its own.
5. Cars (2006) – IMDb – 7.1/10
Renowned rising star race car driver Lightning McQueen, en route to California for the ultimate Piston Cup competition, finds himself responsible for fixing the damaged roads (which he inadvertently caused) in Radiator Springs.
6. Finding Nemo (2003) – IMDb – 8.2/10
For those seeking a movie to escape reality and dive into a captivating world, consider watching Finding Nemo. This acclaimed film was brought to life by the collaborative efforts of Andrew Stanton and Lee Unkrich, with assistance from screenplay writers Andrew Stanton, Bob Peterson, and David Reynolds, cinematographers Sharon Calahan, Jeremy Lasky, and Jericca Cleland, and leading actors Albert Brooks, Ellen DeGeneres, and Alexander Gould.
Released in 2003, Finding Nemo quickly became one of the standout animated adventure films of the year. It received an impressive 8.2 rating on IMDb and raked in around $940,352,645 at the box office.
The film tells the story of Marlin, a clownfish who loses his mate Coral and all but one of their eggs to a barracuda attack. As a result, Marlin becomes extremely overprotective of his surviving son, Nemo. Tragedy strikes again when Nemo is captured by scuba divers, leaving Marlin heartbroken and determined to rescue his son.
7. Lightyear (2022) – IMDb – 6.1/10
IMDB Rating: 5.8/10
Genre: Animation, Action, Adventure
Starring: Chris Evans, Keke Palmer, Peter Sohn
Director: Angus MacLane
Rating: PG
Running Time: 1 hour, 40 minutes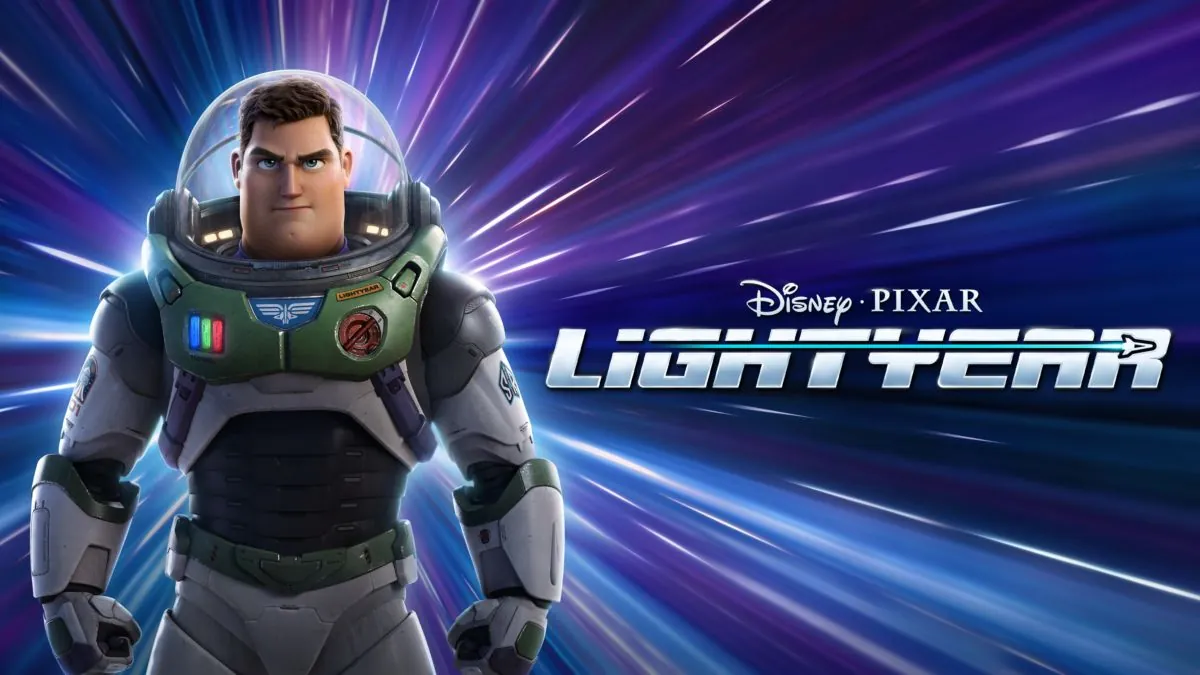 Toy Story spin-off chronicles the thrilling escapades of the genuine Buzz Lightyear (Chris Evans), the fictitious hero who inspired the adored action figure from the well-known series. Aided by his feline companion Sox (Peter Sohn), Buzz embarks on a daring mission to save a stranded team on a peculiar planet dominated by aggressive robots.
8. Luca (2021) – IMDb – 7.4/10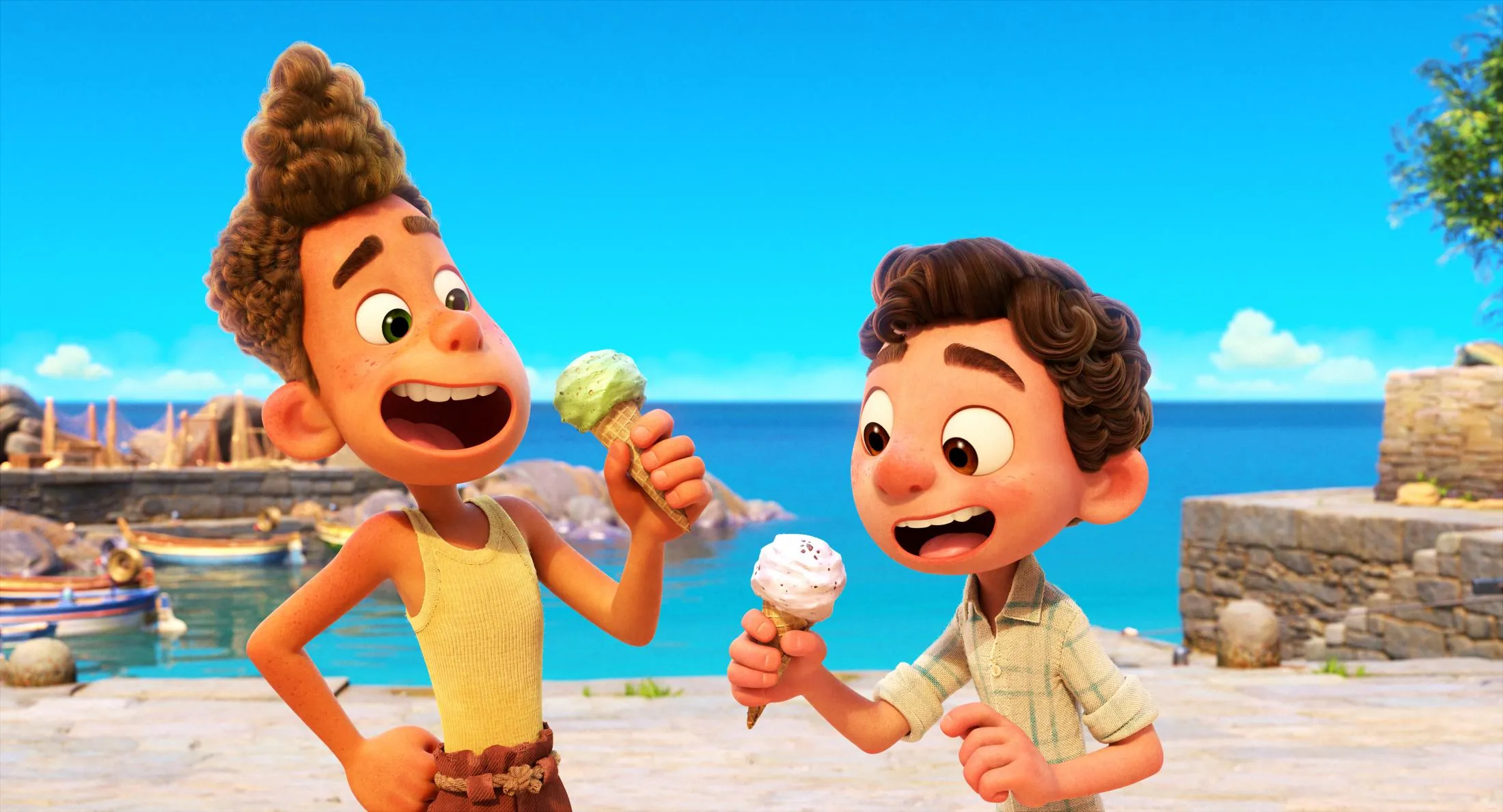 Luca tells the enchanting story of two sea creatures who transform into humans and embark on an exciting journey along the Italian Riviera. This is the second recent Pixar film to premiere on Disney+ rather than in theaters, following the Oscar-winning Soul, a stunning film about discovering one's life purpose that is definitely worth watching.
9. Raya and the Last Dragon (2021) – IMDb – 7.3/10
Raya and the Last Dragon unfolds in the fantastical realm of Kumandra, a place where humans and dragons coexisted peacefully in the past. Fast forward 500 years, and menacing creatures now endanger the land. It falls upon Raya (voiced by Kelly Marie Tran) to locate the final dragon, Sisu (portrayed by Awkwafina), and persuade her to harness her magical powers to rescue the world. This captivating Disney tale comes from the same studio that created Moana and Frozen.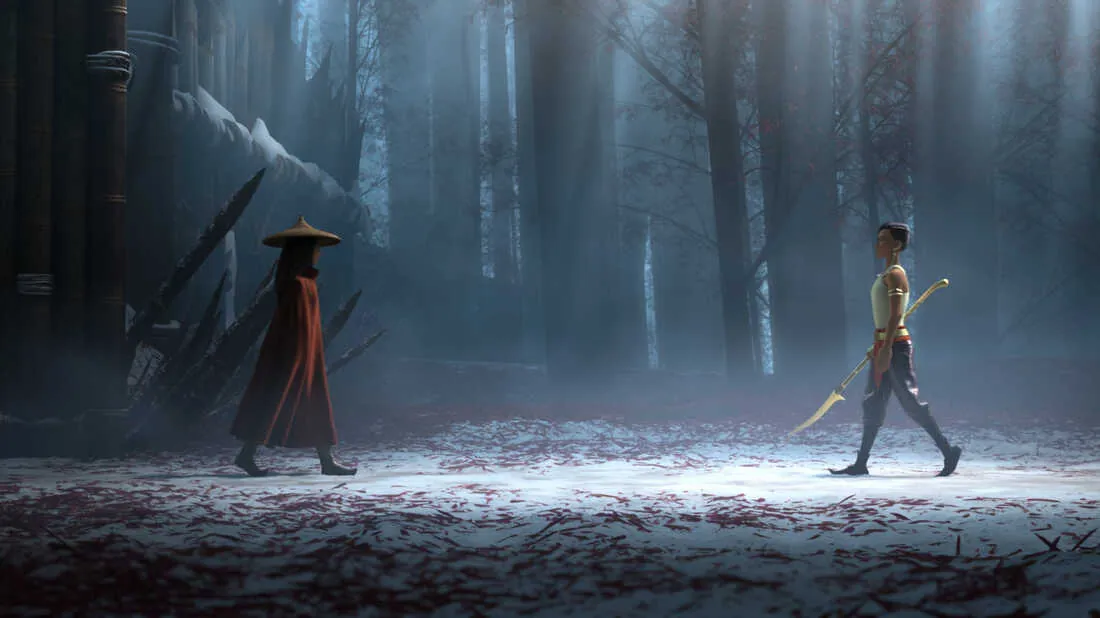 10. A Bug's Life (1998) – IMDb – 7.2/10
A Bug's Life (1998) Flik is a brave ant who tries to save his colony from the evil grasshoppers.
11. Lady and the Tramp (1955) – IMDb – 7.3/10
Lady and the Tramp, an endearing Disney classic, tells the story of a spoiled cocker spaniel named Lady who befriends Tramp, a lovable street dog with a golden heart. The captivating animation, memorable tunes, and one of Disney's most cherished love stories capture the hearts of both children and adults. The iconic accidental pasta-eating kiss is an image that has withstood the test of time and remains etched in our memories.
12. Mulan (1998) – IMDb – 7.6/10
The initial film in the Mulan series showcases a powerful protagonist.
An iconic tale of a young woman called Mulan, who conceals her identity as a male and enlists in the military to protect her nation from invading forces.
13. 101 Dalmatians (1961) – IMDb – 7.3/10
Starting off our list of films with G rating with this Disney classic, this is a great pick if you're a dog lover. This movie features Glenn Close as the beloved villain, Cruella DeVille
14. The Lion King (1994) – IMDb – 8.5/10
The Lion King is undoubtedly one of the most beloved movies, earning an impressive 8.5 rating on IMDb and captivating viewers worldwide.
Featuring a stellar cast with the likes of Matthew Broderick, Jeremy Irons, and James Earl Jones, the film showcases their exceptional acting abilities. The brilliant direction by Roger Allers and Rob Minkoff ensures that each scene remains etched in our memories. If you haven't had the chance to watch this movie, there's no better time than now!
King Mufasa is determined to raise his son Simba with proper guidance and instill in him the laws of the jungle, so he can grow up to be a benevolent ruler.
However, Mufasa's brother Scar harbors a deep-seated desire for the throne and constantly clashes with Mufasa due to his nefarious plans. Simba gets separated from his family and believes his days of ruling are over. But when his past unexpectedly resurfaces, he is reminded of his true destiny.
15. Zootopia (2016) – IMDb – 8.0/10
Zootopia, also known as Zootropolis in some regions, is an insightful Disney children's film that delves into the topic of racism in a world inhabited solely by animals, with no humans in existence. Remarkably, Zootopia neither condescends to its audience nor simplifies the conversation, but rather skillfully addresses the diverse complexities of race. All of this is achieved within a visually stunning, highly engaging, and suitable-for-all-ages presentation.
16. 102 Dalmatians (2000) – IMDb – 4.8/10
On this occasion, we witness Glenn Close portraying the notorious Cruella de Vil in a comical adventure film. The story follows the immaculate Dalmatian Oddball as she sets out on a journey to find her true spots, accompanied by Waddlesworth, a misguided macaw convinced he's a Rottweiler. Naturally, Cruella tries to snatch puppies for her most extravagant fur coat yet, leading to a series of thrilling pursuits, near misses, and bold getaways that span from London to the streets of Paris.
17. Turning Red (2022) – IMDb – 7.1/10
Navigating the challenges of adolescence can be difficult, particularly when experiencing a transformation into a red panda whenever emotions run high. This is the predicament faced by Mei Lee (voiced by Rosalie Chiang), as she discovers a family curse that plagues her. Turning Red is notable for its emphasis on Chinese culture, yet its narrative resonates with a wide audience, appealing to both children and adults alike.
Read More: Top Hindi-Dubbed Hollywood Romantic Movies That You Should Watch with Your Partner
18. The Little Mermaid (1989) – IMDb – 7.6/10
The Little Mermaid (1989) Animated film about Ariel, a mermaid, who longs to walk among the human world.
19. The Princess and the Frog (2009) – IMDb – 7.1/10
Inspired by the Brothers Grimm tale of the Frog Prince, this Disney Princess animation introduces Tiana, portrayed by Anika Noni Rose, as the first Black princess in Disney's history. Set in 1920s New Orleans, Tiana is a dedicated waitress who encounters a prince transformed into a frog, eager to regain his human form. Their adventure takes an unexpected turn when a consequential kiss results in Tiana becoming a frog as well, leading to a comical journey.
20. Chicken Little (2005) – IMDb – 5.7/10
Chicken Little must save the world by himself when disaster strikes
21. Sleeping Beauty (1959) – IMDb – 7.2/10
A famous fairy tale about a princess who falls into an intense sleep and can only be roused by the kiss of true love.
This film's G rating makes it the perfect watch for any family.
Read More: Best Hollywood Sci-Fi Movies in Hindi Dubbed
22. Toy Story (1995) – IMDb – 8.3/10
An innovative Pixar film narrates the tale of a collection of toys, featuring Cowboy Woody Pride, portrayed by Tom Hanks, and space ranger Buzz Lightyear. These toys magically come to life when humans aren't present and embark on exciting adventures with their owner, Andy.
Read More: List Of Disney Movies Dubbed in Hindi
More Honorable mention of Best Kids Movies on Disney Plus
Cinderella (1950)
Hercules (1997)
Aladdin (1992)
Disenchanted (2022)
Frozen (2013)
Black Panther (2018)
Rio (2011)
Peter Pan & Wendy (2023)
Bambi (1942)
Dumbo (1941)
Peter Pan (1953)
Snow White and the Seven Dwarfs (1937)
Pinocchio (1940
The Jungle Book (1967)
Robin Hood (1973)
The Rescuers (1977)
The Fox and the Hound (1981)
The Black Cauldron (1985)
The Great Mouse Detective (1986)
Oliver & Company (1988)
The Little Mermaid II: Return to the Sea (2000)
Pocahontas (1995)
Up (2009)
Inside Out (2015)
Brave (2012)
The Emperor's New Groove (2000)
Lilo & Stitch (2002)
Brother Bear (2003)
Tarzan (1999)
The Aristocats (1970)
Fantasia (1940)
The Sword in the Stone (1963)
The Rescuers Down Under (1990)
The Hunchback of Notre Dame (1996)
The Tigger Movie (2000)
Dinosaur (2000)
Conclusion
Here is our compilation of the top G-Rated films available on Disney Plus. If you wish to contribute further, please click the button below to leave a comment. Finally, we appreciate your visit to Wiki Listia