Have you been on the hunt for your next binge-worthy show? If high-octane action and suspenseful thrillers are your thing, then you've come to the right place. We've compiled a list of the 10 best Indian action thriller web series that will have you on the edge of your seat from start to finish. From gritty crime dramas to slick spy thrillers, this list has something for every adrenaline junkie.
With compelling characters, gripping storylines, and fight sequences that give mainstream Bollywood movies a run for their money, these shows are guaranteed to get your pulse racing. So grab the popcorn, turn off the lights, and get ready for a wild ride with some of the most exciting action-packed Indian web series out there. The only question that remains is: do you have what it takes to make it to the end?
Please Note: This List Includes Indian Action Thriller Web Series on Netflix and Indian Action Thriller Web Series on Prime Videos
Read More: Mystery Suspense Thriller Hindi Dubbed Movies Of Hollywood
10 Must-Watch Indian Action Thriller Web Series List 2023
Here are our top 10 recommendations to get your heart racing:
1 – The Family Man
The Family Man is an exciting and interesting Indian Action Thriller Web Series that will start streaming in 2019. The Family Man Has 2 Seasons till now and 3rd season is currently in production. Manoj Bajpai plays Srikant Tiwari, a guy from the middle class who is also a spy. He tries to take care of his family and do spy work at the same time. This series has turns and thrills that will keep you interested. Srikant's relationships suffer because he has to spy for the government. He was too busy to spend time with his family.
OTT Platform: Amazon Prime.
No. of episodes: 10 (S1) and 9 (S2)
Seasons: 2
IMDB rating: 8.5
Cast: Manoj Bajpai, Samantha Akkineni, Priyamani, Sunny Hinduja and others.
Directed by: Raj and Suparn S. Verma.
2 – The Night Manager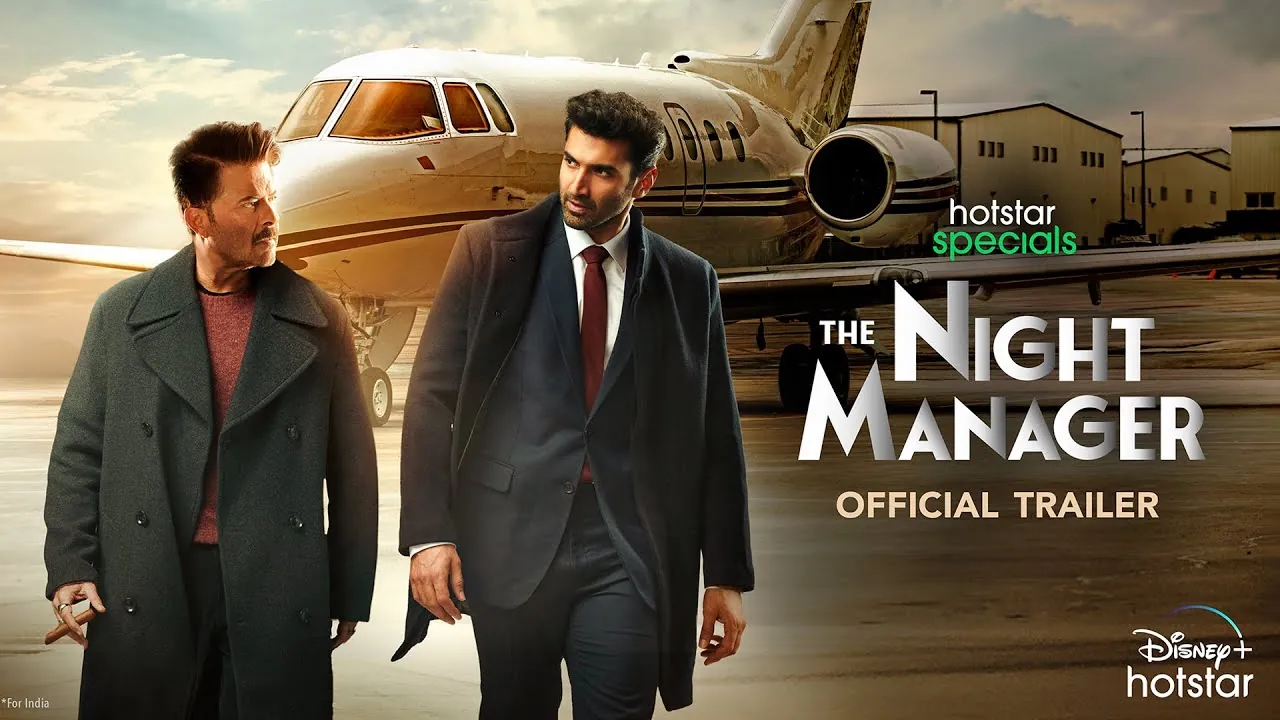 "The Night Manager" is a Hindi-language crime Action thriller television series. It is a remake of the British television series "The Night Manager" (2016) and is based on the novel of the same name by John le Carré. The series was created by Sandeep Modi and features Anil Kapoor, Aditya Roy Kapur, and Sobhita Dhulipala in starring roles. Here are some key details about the Hindi version of "The Night Manager":
OTT Platform: Disney Plus Hotstar
IMDb Rating: 7.6/10
Genre: Crime thriller
Created by: Sandeep Modi
Based on: "The Night Manager" by John le Carré
Written by: David Farr (Dialogues), Shridhar Raghavan (Screenplay)
Directed by: Not specified
Starring: Anil Kapoor, Aditya Roy Kapur, Sobhita Dhulipala
Theme music composer: Santhosh Narayanan
Composer: Sam C. S.
Original release: 16 February (Part 1) – 30 June 2023 (Part 2)
The series follows a hotel night manager who is on a mission to destroy the world of a deadly arms dealer. The performances of the central cast, including Anil Kapoor, Aditya Roy Kapur, Tillotama Shome, and Sobhita Dhulipala, have been praised. The Hindi version of "The Night Manager" is available for streaming on Disney+ Hotstar.
Read More: 5 Korean Hindi dubbed suspense thriller movie
3 – Aranyak
Aranyak is a Netflix original Hindi thriller web series is which is going to be on screen very soon. It is one of the anticipated web series and the release date of Aranyak is yet to come. Well-known and legendary Bollywood actress Raveena Tandon is Making her internet debut through this web series. Parambrata Chatterjee is playing the lead role along with Raveena.
4 – Sacred Games
Crime thriller Sacred Games is based on the novel Sacred Games by Vikram Chandra, which came out in 2006. The story is about a police officer named Sartaj Singh (Saif Ali Khan), Ganesh Gaitonde, and Guruji. Gaitonde, who had been missing for 16 years, shows up out of the blue and asks the corrupt inspector Sartaj Singh to save his city, Mumbai. Ganesh Gaitonde, a gangster, commits suicide in the Present time. In his last words, he said that there was something dangerous going on in Mumbai. Sartaj Singh wants to find out why the gangster killed himself and save Mumbai at the same time. Even though he's been fired, he and RAW Wing officer Anjali still look into the case.
He also learned of Gaitonde's contacts with politicians, DCP, and an actor. He is suspicious of his Father's involvement with Gaitonde. This series would feature dirty politics, as well as crime, drama, and plot twists. Both critics and audiences have praised the casting and writing of Sacred Games.
IMDb Rating: 8.6/10
Directed By: Vikramaditya Motwane, Anurag Kashyap
Star Cast (Main Lead): Saif Ali Khan, Nawazuddin Siddiqui, Pankaj Tripathi
Production Company: Phantom films
5 – Charm Sukh
Charm Sukh is a fantastic Indian web series that is full of romance and thriller. In this series, you can also watch great stories with lots of comedy and romance. I loved this series and you should watch this series.
6 – Apharan
Rudra Srivastava, a top officer of the Uttarakhand police, decides to kidnap a young girl at her request. The plot starts out simple enough: extort money in exchange for her release. When a series of events go wrong and a succession of lies emerge, he learns he has become a part of a deadly conspiracy. Will he be able to escape the consequences of his decisions, or will he become a victim of the web of lies?
IMDb Rating: 8.3/10
Directed by: Sidharth Sengupta
Star Cast (Main lead): Arunoday Singh, Mahie Gill
Release Date: December 14, 2018 (Season 1) & March 18, 2022 (Season 2)
Production Company: Edgestorm Productions
7 – Asur: Welcome To Your Dark Side
Asur is a fantastic crime thriller series.  it will be available on Voot Select. Asur combines mythology, mystery, and crime. Dhananjay Rajpoot is played by Arshad Warsi. He is a forensic expert for the CBI. Nikhil Nair (Barun Sobti), the second main character, is a teacher. He had been a DJ student. There have been killings that follow a pattern. The victim's body was discovered with a missing right index finger and a frightening mask.
Dhananjay Rajpoot tries to solve the case with Nikhil Arora to find Who is the serial killer!
OTT platform: Voot
IMDb rating: 8.4/10
Language: Hindi
Star Cast: Ridhi Dogra, Arshad Warsi, Barun Sobti, Amey Wagh, Others
No. of Seasons: 2
8 – Mirzapur
Mirzapur is a city in the Indian state of Uttar Pradesh, known for its carpets and brassware industries, and the folk tradition of kajri and birha music. However, the term "Mirzapur" is also used to refer to a popular Indian action crime thriller streaming television series created for Amazon Prime Video.
The series is produced by Ritesh Sidhwani and Farhan Akhtar of Excel Entertainment, and the first season was released on November 16, 2018. The story revolves around a shocking incident at a wedding procession that ignites a series of events entangling the lives of two families in the lawless city of Mirzapur.
OTT Platform: Amazon Prime Video
IMDb Rating: 8.5/10
Directed by: Karan Anshuman, Gurmeet Singh, Mihir Desai
Cast: Pankaj Tripathi, Ali Fazal, Vikrant Massey, Shweta Tripathi, Rasika Duggal, Divyendu, Kulbhusan Kharbanda, Vijay Verma, etc.
Release Date: October 16, 2018 (Season 1) & October 23, 2020 (Season 2)
Production Company: Excel Entertainment
9 – Paatal Lok (2020)
Paatal Lok is a 2020 Indian web television series that premiered on Amazon Prime Video. It is a police-based investigative thriller inspired by the traditional concepts of Svarga, Dharti, and Paatal (heaven, earth, and hell), as metaphors for the different classes of India and the four estates.
The series follows a down-and-out cop who lands the case of a lifetime when four suspects are nabbed in the assassination attempt of a journalist. The pursuit leads him to 'Paatal Lok', where he discovers the dark underworld of crime.
Available on: Amazon Prime Video
IMDB Rating: 7.8/10
Directed by: Avinash Arun, Prosit Roy
Number of Episodes: 9
Number of Seasons: 1
10 – Special Ops (2020)
"Special Ops" is an Indian Hindi-language action espionage thriller web series created and directed by Neeraj Pandey, with Shivam Nair serving the credits for co-direction. The series follows Himmat Singh of Research and Analysis Wing who draws similar patterns in terrorist attacks and is convinced a single person is behind all the attacks. The series was released through Hotstar on 17 March 2020 and received a positive response from critics. It also received eight nominations at the inaugural Filmfare OTT Awards, winning three of them
11 – The Raikar Case
The Raikar Case is a fantastic story film in which you can watch a great crime, thriller story. I'm waiting for the release date of this web series. All characters in this film played good roles.
12 – Ek Thi Begum
Ek Thi Begum is an excellent Hindi web series that is based on crime, action, thriller, suspense. The story of this series is very interesting in which you can watch lots of romance. The series is inspired by true events and is a story of a woman named Ashraf Bhatkar, played by Anuja Sathe, who vows to destroy the illegal empire of Maqsood, an underworld don, after her husband Zaheer, played by Ankit Mohan, is killed.
"Ek Thi Begum" is available for streaming on MX Player and Netflix
Read More: Top 10 Web Series on Netflix in Hindi Dubbed
Conclusion
So there you have it — ten of the best Indian action thriller web series to stream right now. Full of gritty mysteries, shocking plot twists, and high-octane action sequences, any of these shows are guaranteed to get your pulse racing and leave you on the edge of your seat. What are you waiting for? Pick one that catches your eye, get the popcorn ready, dim the lights, and settle in for an adrenaline-fueled binge-watching session you won't soon forget. The world of Indian OTT content is growing more exciting by the day. These thrillers are proof that India has massive potential to dominate the digital media space in the years to come.